Today, Turkey's private hospitals offer the most advanced medical treatments and technology available in the world. Turkey is among the top three countries of the world in kidney and liver transplants from live donors. Liver transplant is a proven lifesaving treatment option for patients with liver failure due to end-stage chronic liver disease. It is recommended only if the liver lost it's function and when it cannot be managed by other treatments. Chronic liver failure may be caused by various of diseases. The most common reasons in adults are cirrhosis, hepatitis C and biliary disease, in children is biliary atresia.
The liver is the body's largest internal organ which is located on the right side of the abdominal cavity.Liver is the only organ that can regenerate itself. It can regenerate itself completely if a minimum %25 of the tissue remains healthy. It can regrow to its previous size without lossing any function during the growth process. The liver responsible for chemical activities that the body needs to survive.
Liver performs many critical functions in the body, including:
Regulating chemical levels in the blood and produces bile. Bile helps the body to absorb fats and cholesterol.
Regulating blood clotting
Clearing the blood from harmful substances
Producing proteins, cholesterol and blood clotting factors
Liver transplant is a surgical procedure of replacing the diseased liver that no longer functions properly with a whole or partial of healthy liver from a deceased or live donor. In living donor liver transplant, a partial of liver is removed from a living donor and transplated into a recipient. Both the donor's and recipient's livers will grow to normal size within 8 weeks. The amount of donated liver must be 50% of the recipient's liver size. Usually operation takes between 6-8 hours. After the surgery requires 10-20 days of hospital stay. Organ transplant surgeons in our exclusive network are among the Turkey's most successful providers of liver transplant for adults and children. Our organ transplant surgeons have had between 20 – 40 years' experience in their field.
My Health Turkey has decades of experience and knowledge in the health sector and has been involved and connected with the Turkey's leading hospitals. In order to guarantee that our patients get reliable and effective medical care we are carefully selecting best doctors and top hospitals to be part of our exclusive network. Through our associate hospitals we are pleased to provide immediate access to kidney transplantation at affordable prices. Patients can rest assured that that we will collaborate and explore all treatment options, providing the best care available. Living liver donor in Turkey
In Turkey, the living donor can be only a family member or relative up to the 4th degree who is willing to give you a path of their liver. Application for the procedure have to be made directly to the hospital where the transplantation procedure take place with the identity register copies such as passport. The documents have to be approved by the chief of doctors in the hospital. Being unrelated living donor is possible if it is approved by the central Ethical Council, formed by the Ministry of Health Turkey
Turkey is world renowned for providing successful organ transplantation. The success rate of liver transplant in Turkey is is 95%. It is above the world averages and the same as the top hospitals in USA.
Our partnership with Turkey's leading hospitals enables us to provide our patients with coordinated multi-disciplinary care, high quality clinical outcomes, access to leading edge technology and clinical trials, cost-efficient care, outstanding patient experience, research and innovation, and a holistic approach to patient care.
Turkey is among the top 10 medical tourism destinations in the world. Many hospitals in Turkey are accredited by Joint Commission International (JCI). In Turkey, patients receive advanced treatment with cutting-edge technology from high qualified medical staff. Patients generally save 50% to 70% in healthcare cost in Turkey compared to the cost of similar services in Europe and United States.
Liver Transplantation Centers at our associate hospitals are ready to meet the needs of our adult and child patients considering a kidney transplant. We are providing our patients with the same level of compassionate service we would wish for ourselves and for our loved ones.
PEDIATRIC LIVER TRANSPLANT
A liver transplant was performed to Ilhan Karadeniz, who was 8 months old, 7 kg and PELD score was 28, with tyrosinemia, with a left lateral segment of 290 grams taken from his uncle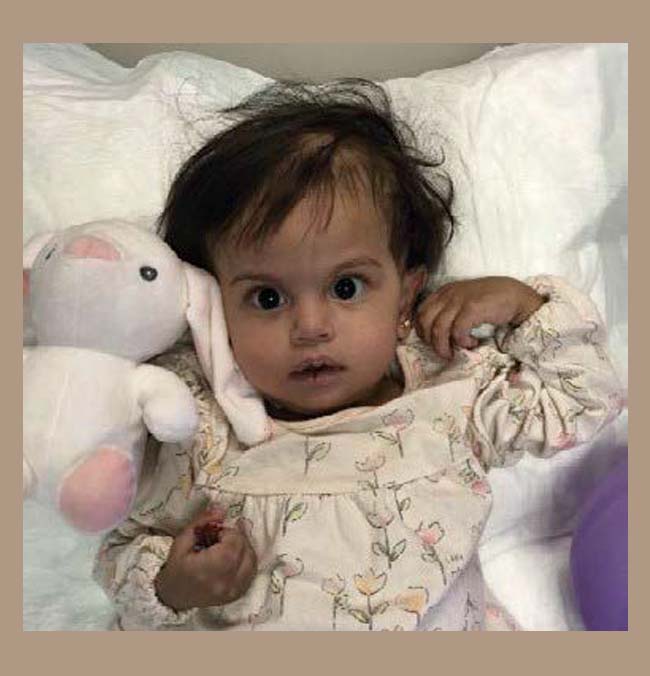 PEDIATRIC MONOSEGMENT LIVER TRANSPLANT
A living donor liver transplant was performed with a monosegment graft taken from the father to a 1 year old baby Jood, who was 6.2 kg with biliary atresia and severe varicose bleeding.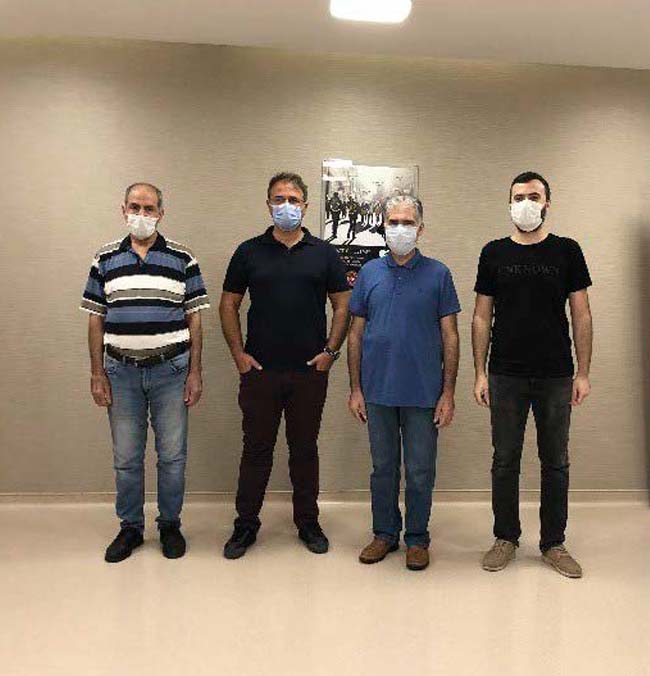 CROSSOVER LIVER TRANSPLANT
Patient: 55 years old, 84 kgs, male. Meld score 10 and HCC foci Donor: 24 years old(922 grams right lobe) Patient: 54 years old, 78 kgs, male. Meld score: 35 Donor: 31 years old (900 grams right lobe)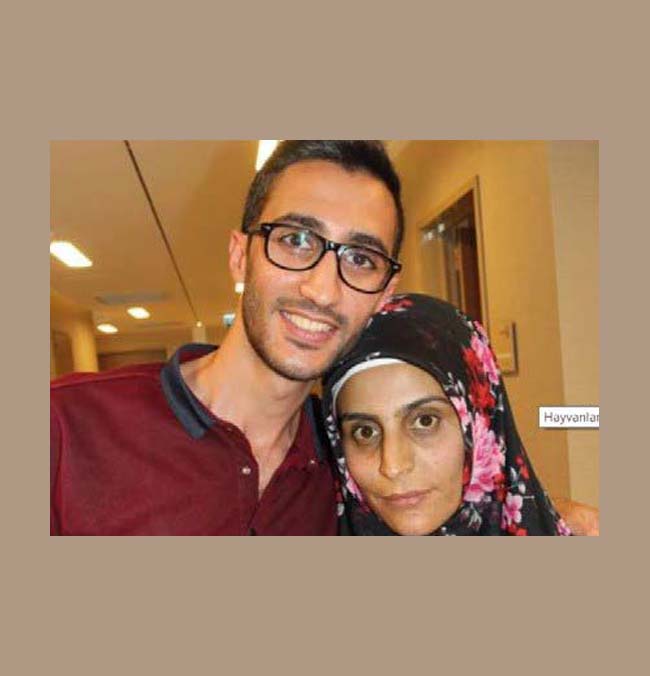 ALVEOLAR CYST HYDATIC AND LRLT LIVER TRANSPLANTATION IN
During a living donor right lobe liver transplant to a patient who had VCI infiltrated due to a central alveolar cyst at the age of 28, anastomosis of the right hepatic vein was resected together with a native hepatectomy and its continuity was performed on a dacron graft. A 45-year-old female patient with cryptogenic liver cirrhosis had complete retrohepatic VCI obliteration. After native hepatectomy, VCI continuity was provided with PTFE graft, and a living donor right lobe liver transplant (right hepatic vein was anastomosed on the graph) was performed.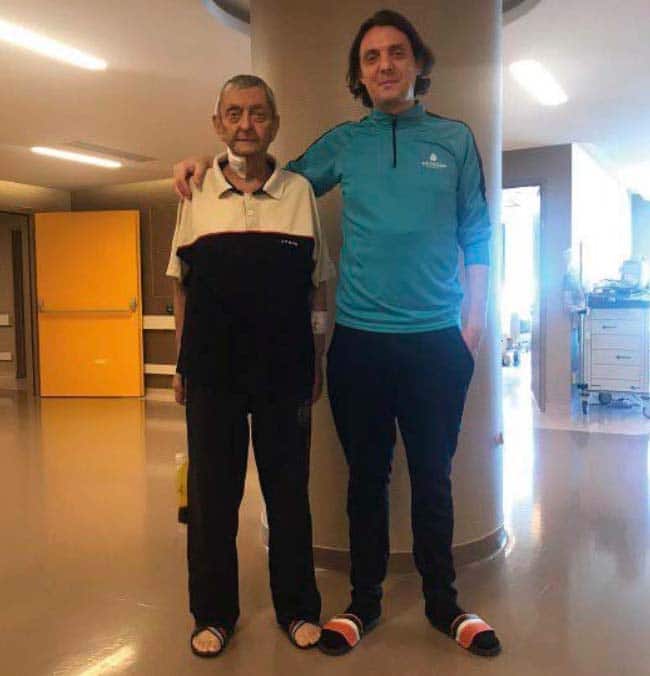 SIMILTANEOUS LIVER TRANSPLANT AND CABG
S.Y. was 68 years old. He had liver-S due to NASH, DM, and coronary artery disease. His MELD score was 24. A mini thoracotomy CABG was performed 15 days before the living donor right lobe liver transplant from his 32-year-old son without sternotomy.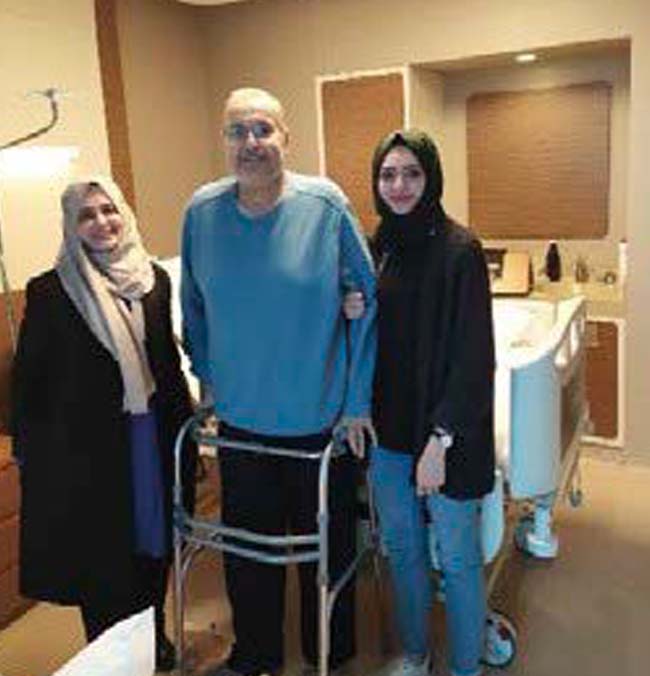 DUAL-LOBE LIVER TRANSPLANT
It is the process of transplanting 2 separate liver pieces taken from two donors to a patient in the same session, in cases where the recipient's BMI is high and the liver fragment from a single donor does not meet the metabolic need of the recipient. It comes into question in cases where liver transplant is mandatory (emergency, no cadaver donor). 56 years old and 155 kg MB had a sleeve gastrectomy 4 years ago due to morbid obesity. The patient, who gained weight again in the last 1 year, had gastric by-pass surgery 4 months ago, but the patient with chronic liver disease due to NASH had decompensated liver failure after this procedure. The patient who had a MELD score of 27 and developed hepatorenal syndrome and encephalopathy became unable to walk due to ascites and edema developed from the last surgery. The patient, who underwent dual lobe living donor liver transplant, was discharged on the postoperative day 35 with a weight of 102 kg and normal liver function tests.